Domestic Violence
Domestic violence includes any form of physical, sexual and/or psychological violence between persons who usually live in the same household. It is not important whether the persons are married, in a registered partnership or simply live together. Domestic violence can take the following forms:
Threats 
Humiliation and abasement 
Insults
Intimidation
Threats to harm children in some way
Psychological, physical and sexual abuse 
Rape
Deprivation of liberty
Attempted murder or murder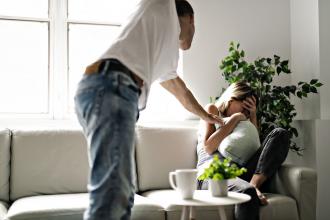 It is often the case that domestic violence takes place behind closed doors. However, it can also occur outside of the home, for example, on the street, at work or in other places. 
The situation is often particularly onerous for victims because domestic violence often builds up gradually and is frequently carried out by a loved and trusted person in a location that victims had assumed to be a safe place or a place of refuge. 
Find help fast
You can search for women's and specialist advice centres in your area on this Victim Protection Portal. Women and girls who are affected by domestic violence can find detailed information as well as advice and support services on the following websites: