Robbery
The law considers robbery to be the taking of someone else's property with the threat or use of violence. Offences of this nature are punished according to the German Criminal Code, whereby the law distinguishes between different forms of robbery and the severity of the victim's injuries. 
Robbery offences are subdivided into different outward forms: 
Robbery on streets, paths and in squares 
Bag snatching
Burglary
Robbery at payment points and in shops
Robbery of cash transporters and transporters carrying valuables
Car-jacking
Robbery resulting in death
Extortion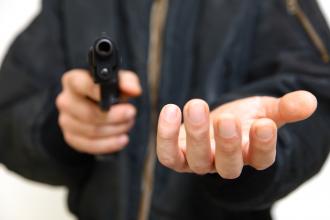 The consequences of a robbery can cause the victim psychological distress. In such cases, it is recommended that the victim seek professional help. Victims can go to their closest police station. The police will put them in touch with support organisations and advice centres.
Find help fast
You can find information about the many different outward forms of robbery, measures you can take to protect yourself and your rights and entitlements on the following websites.
"Abseits?!" ("Offside?!"): A film for the prevention of violence for pupils aged nine and older 
The film consists of six self-contained episodes on the topics of violence, bodily harm, robbery/extortion, damage to property/graffiti and civil courage. (Runtime: 20:12 minutes)